Ground Control: We've Located the Best Decaf Ground Coffee on Planet Earth!
Whatever coffeemaker you use, we've got the perfect grind that gets the best flavour and aroma for your machine
Hand-crafted process: your coffee is ground on the day of your order
Our bags are designed to keep the freshness in
Perfect for filter machine, French press, espresso and pods
20% Off Your Next Order If You Signup
Six Degrees of Ground Roast Decaf.
Even a seasoned coffee expert will tell you that roasting decaf is difficult. Fortunately, our expert decaf roasters have all the know-how they need to roast your beans and grind them to perfection on the day of your order.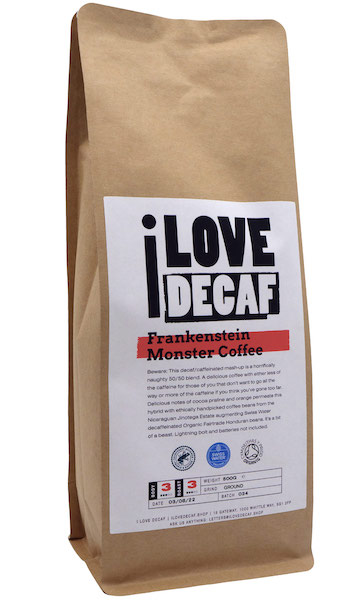 ---
How Does the Grind Affect Your Coffee?
We make this as straightforward as we can here at I Love Decaf. Our coffees come in different grades for different kinds of coffee-making. Rather than say 'medium grind', we say what kind of machine the grind is for right there on the bag. Sometimes, when our copywriter has waxed lyrical about eagle flight or angel's tears, we save label space and use a letter instead. Ultimately there are two grinds. Ground and Fine Ground.
Ground
Top tip: Don't buy fine ground for the French press or cafetiere, buy ground. If the grind's too fine, brewing it for minutes rather than seconds will make it taste like Satan's ear wax.
Use ground decaf in:
Cafetiere or French press
Fine Ground
Fine ground decaf coffee brews faster than standard ground so it's perfect where the water only has seconds to do its work. Putting ground coffee instead of fine ground in will only turn hot water into brown hot water. The best flavour you'll get out of that is burnt cardboard. Yum. Also, if you are really into coffee and want a specific grind for your machine, let us know and we'll do it.
Use fine ground decaf in:
Filter machine
Stovetop
Espresso
Domestic espresso
Aeropress
V60
---
Choose your Bag of Personality…