I Love Decaf's amazing frothy espresso coffee
If you believe all the moodily lit ads – the hessian sacks, mountain scenery and middle-aged men in white suits sieving beans through their hands – coffee is about so much more than roasted and ground beans soaked in hot water and served in a cup. You would be right, but not in the way those ads would have you believe.
So how does proper coffee differ from the insipid gack peddled by multinationals with big ad budgets? The taste? Yes. The aroma? Of course. The absence of pretention? Naturellement.
And with espresso, there's the crema.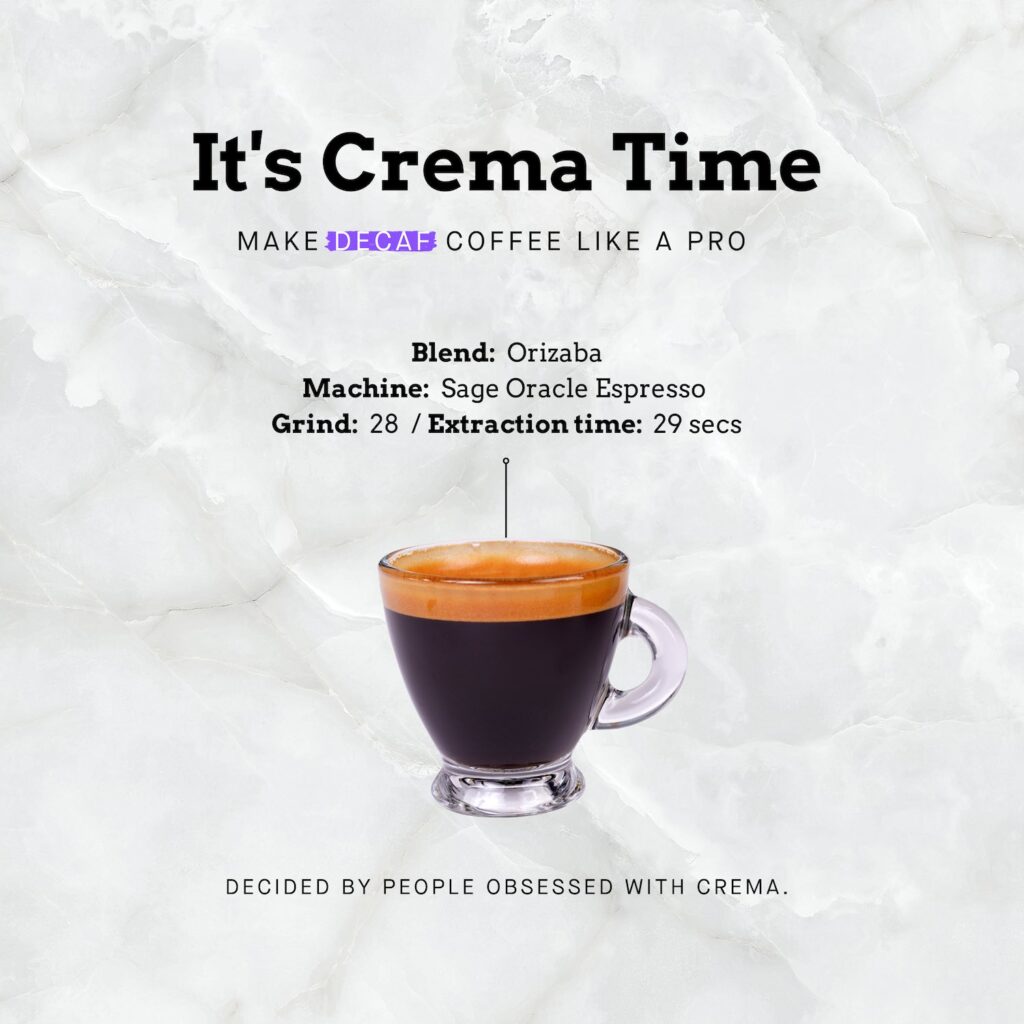 With espresso – the doyen of coffee – a lot rides on the crema. Italian for 'cream', the crema is a layer of dense foam that forms on top of espresso coffee. This velvety layer – actually a suspension of microscopic particles of coffee oils – tells you that the coffee has real body and texture for the flavour to emerge from. It's a sign of espresso quality.
A joke. How can you tell when a plane full of coffee snobs lands at an airport? It's when you can still hear the whining when they turn off the engines.
There is a lot of whining from caffeine snobs about decaf, so we thought we'd put it to the test. Can we get a full-bodied, tasty espresso from our Orizaba Mountain Water Decaf? Will it have the full aroma and a healthy crema?
Who could we ask?
To say our photographer, Yu-Kuang Chou, is serious about his coffee is a bit under-brewed, he is more of a coffee nut who doesn't mess around, but we knew he had an open mind. So, we lured him to the studio to take some shots of our, errrr, shots and before we knew it, the aroma overcame him, and he was carrying a bag back to his coffee lab.
His verdict?
"The beans gave a lot of crema during the extraction in my Oracle espresso machine. 

The flavour palate is quite full bodied and dark. It had an unexpected deep richness to it, which I didn't expect from a decaf coffee.

I could tell it didn't have caffeine but I didn't mind as the flavour was right."

Yu-Kuang Chou – I Love Decaf Photographer
Like Yu-Kuang Chou, challenge the idea that you can't get flavour, aroma and crema from a decaf espresso like you challenge the idea that all the world's coffee is traded by middle-aged men in white suits and Panama hats on remote mountain tops. All of that is a fairy tale; you'll find your fantasy favourite at I Love Decaf.