You know how it is; every time you go to the supermarket, you look at the decaf coffee on offer and feel enthusiasm being sucked from your soul. If that sounds like you, then you have tried most of the own-brand decafs already and have come to the conclusion, as we have, that really good decaf is really hard to find in a supermarket.
Many people – cofficianados and consumers alike – criticize own-brand decaf coffee for its lack of flavour, but the real problem is that it has lots of flavours, just not necessarily any pleasant ones. Even the packets remind us of that bloated feeling you get after bad coffee with its flavour notes of cat piddle and warm tyres.
There isn't a superstore decaf that doesn't call to mind a warm evening in a fertiliser silo – not one that we've discovered yet, anyway.
In fact, if we were supermarket coffee buyers, we wouldn't go to extreme lengths to preserve the taste. We wouldn't stick it in foiled bags with re-sealable strips. Why bother maintaining a vacuum when leaving it on the porch in an open jar would at least let the fumes escape?
Our decaf is best
We started I Love Decaf to make the best decaf coffee you can't buy in a supermarket. We believe that some kinds of decaffeinated coffee are less like a pleasing drink and more like a punishment and we wanted to do something to set it straight. It's not just the supermarket own-brands either; many major brand coffees miss the mark on their decaffeinated spin-offs.
That's why asking for the best supermarket decaf coffee is like asking for the most comfortable barbed wire shirt. Just because it's the only shirt on offer doesn't mean you should buy it.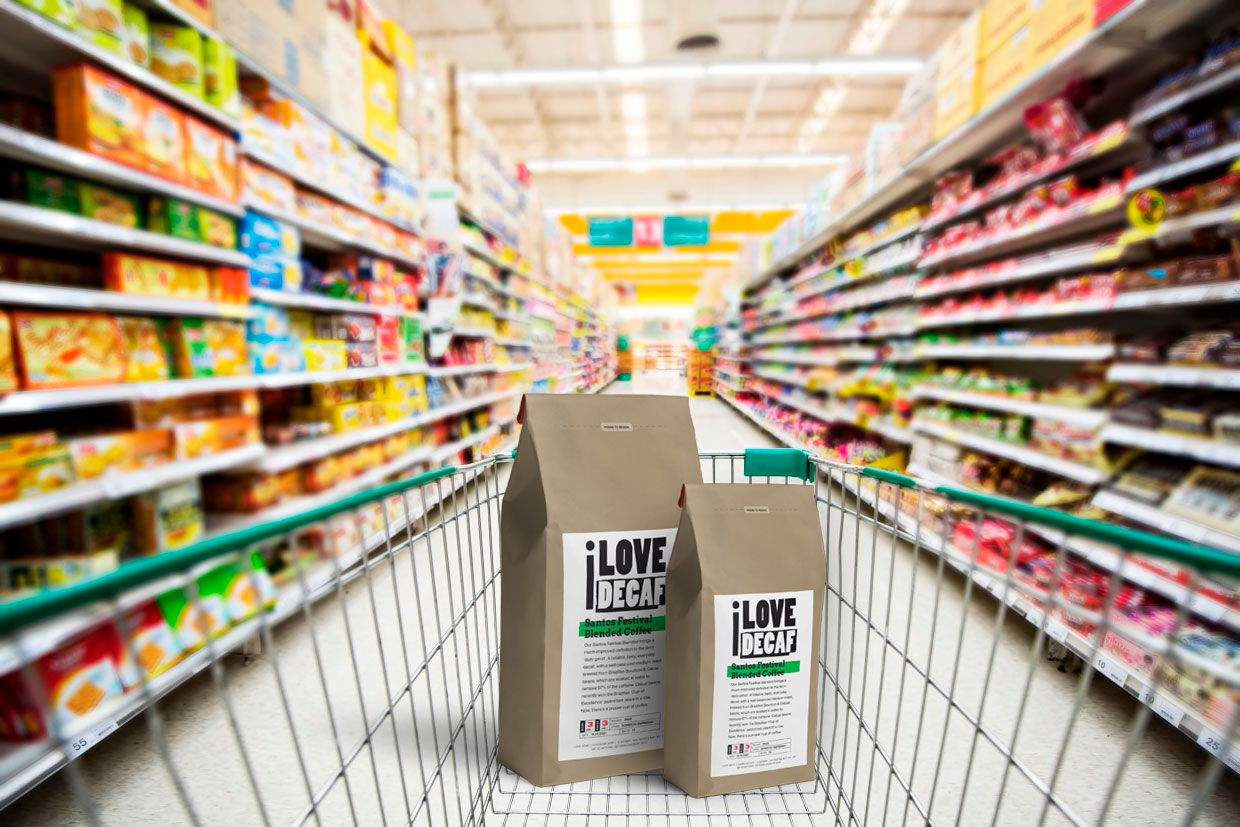 You can't get I Love Decaf in the supermarket
To be honest, we can't imagine even having a meeting at any of the big supermarket chains, and that's not just because our MD Mr Roy Bosch (he is also a part-time alligator wrestler and balloon entertainer of some note) has anger management issues with idiots, it's because we don't want to sit in their soulless offices drinking their horrible supermarket decaf. It's best for all concerned if we don't. That's not the kind of publicity we need.
Check out these superior decafs from the I Love Decaf range.