One of the over-touted benefits of caffeine is as a pick-me-up – a stimulant that sharpens the mind and gets stuff done. While caffeine consumption revolves around these 'accepted facts', caffeine's superpowers in the war on snoozing turns out to be over-played at best and completely fictitious at worst.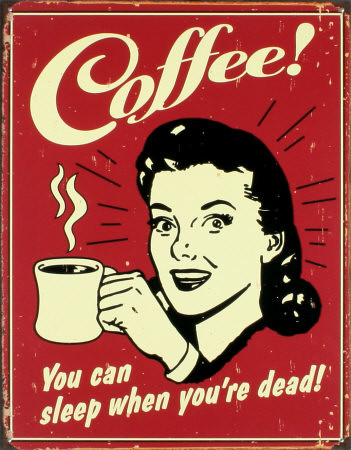 So, now you've gone decaf, how do you overcome the mid-afternoon mountain of doom that is the 3pm slump? The answer is all in the mind or, rather, the brain.
The brain is a brat. Your brain, my brain, your bosses' brains are all self-obsessed, entitled, lazy bags of porridge comfortable with the high-life and quick fixes. You wouldn't vote for your brain in a ballot if the only alternative was a brown paper sack of self-aware mashed potatoes.
The brain's biggest character defect is that it knows its own mind and is very uncomfortable changing it. All those gallons of caffeine it's been swimming in your whole life, along with the sugar, the processed carbs and all the other quick hits, are what it's used to. And it wants more. Your craving brain demands you run it a warm bath of cosy slop to hang around in every day.
But you can challenge it. The brat can be changed. You already did by going decaf. A day or so of brain ache and things soon got better. Now it's halfway through the afternoon and you're feeling a bit limp, your brain wants you to run the bath as usual. Just once, for old time's sake.
How to Avoid the Mid-Afternoon Slump Without Caffeine
As obstinate and lazy as a brain is, it's also easy to out-wit. The best way out of the 3pm slump is a distraction, a change of pace, a new focus. Making your brain work in a different way means it will start making its own good time chemistry without all those artificial quick fixes.
Get out of the office for a breath of fresh air, a bit of exercise. Exercise improves blood flow, helps brain chemistry and is more effective than caffeine at improving your alertness and focus.
Take a break. Sounds straightforward enough, but we don't mean a sandwich at your desk, take a proper break away from your work environment, take in a view
Fire up your music player with high energy sounds or something you can completely shift your focus onto. We know at least one CEO who goes even further and takes his cello into his office. That's probably not suitable for a cubicle worker but if you're remote working, something similar might be the ticket to get away from the grind.
Give in. Surrendering to a crafty nap might be the best thing. We are programmed for the mid-afternoon siesta,and you will definitely feel better and the longer you sleep, the longer it will last. The so-called 'power nap' of 10-15 minutes can recharge you for a few hours, while getting in 90 minutes of sleep will allow your brain to experience all phases of light, REM and deep sleep. Deep sleep is where our brains consolidate memory, experience and learning. No wonder that a NASA study found a 26-minute nap improved productivity by over 30%.
Prevention is Better than the Cure
Bad sleep habits like late nights, evening snacking, and staring at screens into the evening can disrupt a night's rest and can make us tired before we even get into work. Look after the nights and the days will look after themselves.
One last way to avoid hitting the caffeine in the afternoon is to play to your body and brain's strengths and structure your day accordingly. We are much more mentally alert in the morning and much better at taking decisions, leaving the afternoon to practical matters and dexterity.